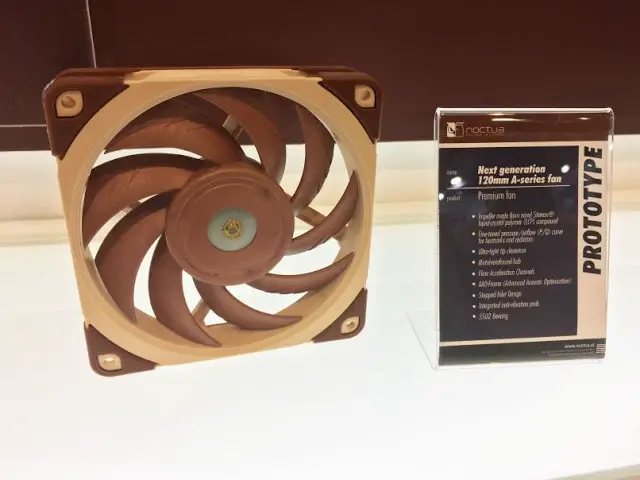 Noctua is one of the few brands that have solid fans and CPU coolers across the board. It's NH-D15 CPU cooler for example, can easily put a generic AIO liquid cooler to shame. After years of waiting – 4.5 years to be exact, Noctua's next generation A series fans which has been showcased back in 
Computex 2016
 will soon be available by 2017 Q4.
Unlike any of its previous fans i.e NF-P12, NF-F12 and NF-S12A that uses PBT material for its impellers, the upcoming A series 120mm fan are made of Novel Sterrox liquid crystal polymer (LCP) compound as well as far-reaching structural modifications that help to reduce tensions in the plastic after injection moulding. 
Unlike any traditional fans made with conventional materials, the Sterrox LCP has an ordered, rod-like molecular alignment when it is in its melt state, and solidifies into a highly oriented and extremly rigid chain structure. As result, the impellers are extremely rigid and doesn't deform easily under heat and the centrifugal force over long hours of operation. 
This allows Noctua to achieve its goal of having a mere 0.5mm clearance between the fan's frame and its impeller, which greatly minimize the air leak and improves the overall static pressure that the fan can deliver.
Of course, extreme rigidity isn't the only traits these Sterrox LCP impellers has. Thanks to its elasticity modulus and dampening properties that is ideal for reducing resonance and vibration phenomena, smoother acoustic profile can be achieved. Good news for the silent freaks!
Unlike any of the existing Noctua fans that are specially designed for a certain, specific applications, the new A-series fan are more like a all-rounder fan that falls in between the high static pressure NF-F12 and high airflow NF-S12A.
Based on the performance curve as shown above, the new A-series fans are shown capable of delivering better performance with a balanced static pressure and airflow than both the NF-F12 and NF-S12A in real world performance.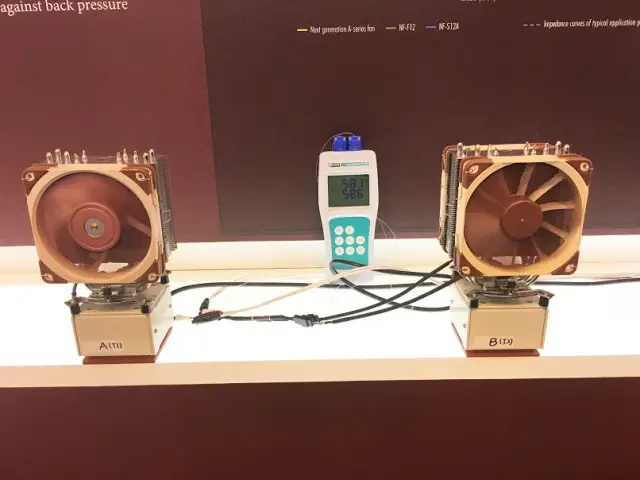 If the numbers alone aren't convincing enough, Noctua has a thermal simulation setup to demonstrate its performance in real life. The new A-series fan are put to test With both station having the same amount of heat to dissipate and the same CPU cooler. 
Other than having a much better acoustic profile, the setup with a single new A-series fans also performs slightly better than the one with a dual fan setup. From the current performance observed, we believe that the new A-series fan will do even better than the existing static pressure optimized NF-P12 fans and could potentially be the next king of radiator fan after the long reign of the current king, Scythe's Gentle Typhoon AP-15?