After multiple decades of running the CPU and memory business, it is time for the GPU market to get Team Blue to join Team Red and Team Green. Ladies and gentlemen, Intel Arc.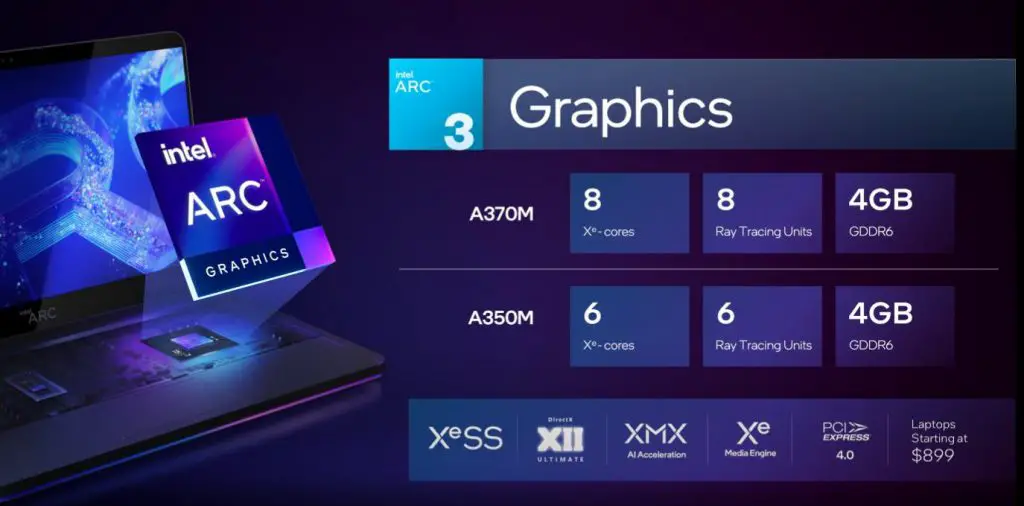 Technically speaking, the official announcement for Intel Arc was first revealed in August 2021 where early information such as the Xe-HPG architecture derived from Intel Xe to offer better performance and optimization but still based on the very root of technology they are using. While they have teased a Q1 2022 worldwide premiere before, they are touching the borderlines of a technical Q1 release albeit just for the mobile market.
Yes, you heard it right. Laptops will be the first guys getting fitted with the Alchemist GPU and if the selection between NVIDIA GeForce and AMD Radeon isn't already confusing enough for a normal user, adding another one surely wouldn't make the situation any easier. But hey, more constructive comparison for us power users!
Intel is also playing a rather safer game by only introducing 2 mobile GPUs, namely the stronger A370M and the less powerful A350M. Both of them will run the same amount of VRAM at 4GB GDDR6 but the A370M will take a lead by having 2 more Xe cores and Ray Tracing Units at 8 compared to the A350M's 6. The reason why we say this is a rather conservative mode is that the Intel Arc 3 series mobile GPUs are actually offerings in the lower spectrum and Team Blue has mentioned the Arc 5 and Arc 7 family is coming in "early Summer". Also, it is nice of them to keep the numbering scheme in accordance with the Core series CPUs.
As for software features, it is going to have the XE Media Engine, XE Display Engine, and XE Graphics Pipeline, with support for DirectX 12 Ultimate, ray-tracing, XE Super Sampling, and more. Digging further into the details and it is known that each XE core features 16 x 256-bit Vector Engines, 16 x 1,024-bit Matrix Engines, and 192KB of shared memory while hardware encoding up to 8K 10-bit HDR and hardware acceleration for video playback is given to the XE Media Engine.
For the XE Display Engine, it can keep up with the latest standards in the sense of 8K displays at 60Hz, 4 x 4K displays at 120Hz or a single 1440p display at 360Hz. Power consumption wise, the A350M is rated for between 25W to 35W while the A370M gets around 35W to 50W.
To wrap it up in one go, a simple spec sheet is given to us by Intel during the Youtube premiere. Take a look down below.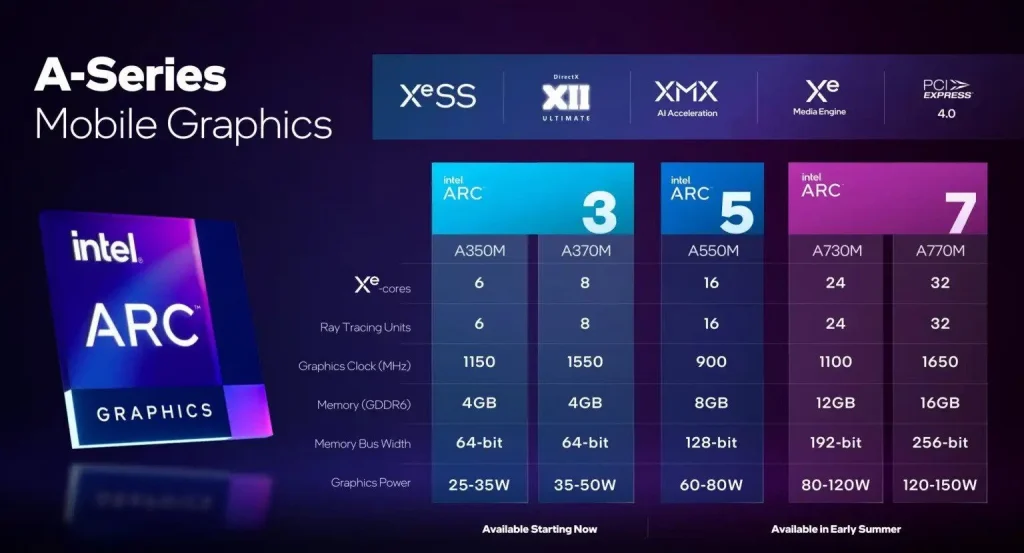 Intel also didn't forget to give us the name of its GPU software suite which is the Intel Arc Control that matches its competitor's NVIDIA GeForce Experience and AMD Radeon Software and there's also a special Deep Link feature that allows Arc GPUs to work together with an integrated Xe GPU resided within the newer generations of the Intel Core CPUs to provide a boost in performance without costing extra bucks.
The Arc 5 and Arc 7 mobile GPU isn't the only things getting the "early Summer" release because the desktop version will be there as well, despite being a "Limited Edition" release and there are a lot of information holes to be filled as Intel had their lips shut tight and only gave us a render of the GPU unit. So far, it is confirmed to have a dual-fan design, 1x HDMI port, and 3x DisplayPort In. We do hope that this is the "Founder's Edition" situation where it is only given to authorized parties that justifies the "Limited Edition" tag while AIB partners still do what they do.
So what's your expectation for the Intel Arc GPU? Let us know in the comments!