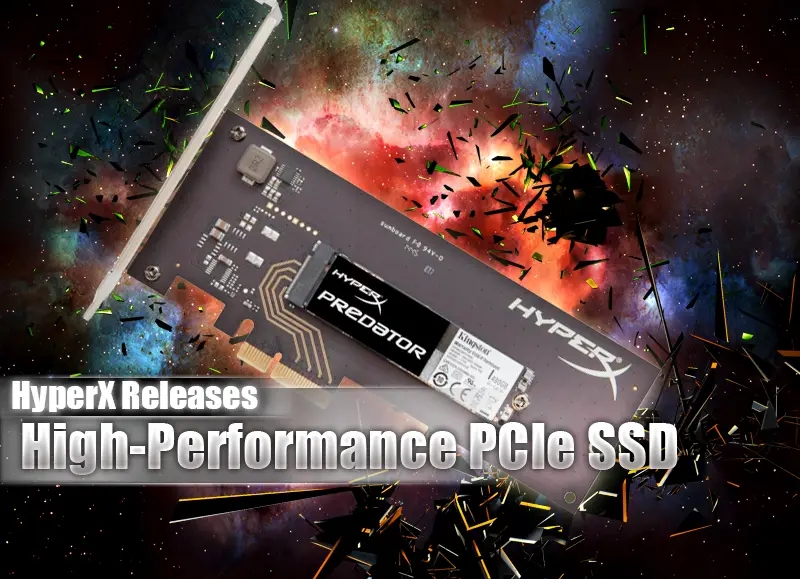 Hsinchu, Taiwan – March 24, 2015– HyperX®, a division of Kingston Technology, the independent world leader in memory products, today announced the HyperX Predator PCIe SSD. HyperX Predator PCIe SSD is the highest-end SSD with the fastest speeds in the HyperX lineup.
HyperX Predator PCIe SSD offers large capacities (240GB, 480GB) and incredible speeds to take systems to the edge. Faster than SATA-based SSDs, the PCIe generation 2.0 x4 interface delivers speeds up to 1400MB/s read and 1000MB/s write for ultra-responsive multitasking and an overall faster system. It is powered by the Marvell 88SS9293 controller. 
The M.2 form factor ensures next-generation platform support with an M.2 PCIe slot. An optional half-height, half-length (HHHL) adapter is also available for many existing motherboards without an M.2 socket. The HHHL adapter comes with both standard and low-profile brackets to fit in slim profile desktop builds.
HyperX Predator PCIe SSD

Part
Number         

Capacity and
Features

SHPM2280P2/240G

M.2
Form Factor 240GB

SHPM2280P2/480G

M.2
Form Factor 480GB

SHPM2280P2H/240G

HHHL
Form Factor 240GB

SHPM2280P2H/480G

HHHL
Form Factor 480GB
HyperX Predator SSD Features and Benefits:
Fast: PCIe connection provides higher speeds than SATA-based solid-state drives for the ultimate computing experience
Blazing performance: ultra-responsive multitasking and overall faster system
Reliable: rugged and durable to take your system to the edge
Form factor: M.2 with optional Half-Height Half-length adapter to fit in both new and older motherboards
Guaranteed: three-year warranty and free technical support
Form factor: M.2 2280
Interface: PCIe Gen 2.0 x 4
Capacities1: 240GB, 480GB
Controller: Marvell 88SS9293
Baseline Performance:
Compressible Data Transfer (ATTO):
240GB: 1400MB/s Read and 600MB/s Write
480GB: 1400MB/s Read and 1000MB/s Write
Incompressible Data Transfer (AS-SSD and CrystalDiskMark):
240GB: 1290MB/s Read and 600MB/s Write
480GB: 1100MB/s Read and 910MB/s Write
IOMETER Maximum Random 4k Read/Write:
240GB: up to 160,000/ up to 119,000 IOPS
480GB: up to 130,000/ up to 118,000 IOPS
Random 4k Read/Write:
240GB: up to 120,000/ up to 78,000 IOPS
480GB: up to 117,000/ up to 70,000 IOPS
PCMARK® Vantage HDD Suite Score:
240GB: 138,000
480GB: 139,000
PCMARK® 8 Storage Bandwidth:
240GB: 331MB/s
480GB: 336MB/s
PCMARK® 8 Storage Score:
Anvil Total Score (Incompressible Workload):
Power Consumption: 1.38W Idle / 1.4W Avg. / 1.99W (MAX) Read / 8.25W (MAX) Write


Storage temperatures: -40°C~85°C


Operating temperatures:
0°C~70°C
Dimensions:
80mm x 22mm x 3.5mm (M.2)
180.98mm x 120.96mm x 21.59mm (with HHHL adapter – standard bracket)
181.29mm x 80.14mm x 23.40mm (with HHHL adapter – low-profile bracket)
Weight: 
10g (M.2)
73g (with HHHL adapter – standard bracket)
68g (with HHHL adapter – low-profile bracket)
Vibration operating: 2.17G Peak (7–800Hz)


Vibration non-operating: 20G Peak (10–2000Hz)


Life expectancy: 1 million hours MTBF


Warranty/support: 3-year warranty with free technical support


Total Bytes Written (TBW)3: 
240GB: 415TB 1.6 DWPD4 
480GB: 882TB 1.7 DWPD4