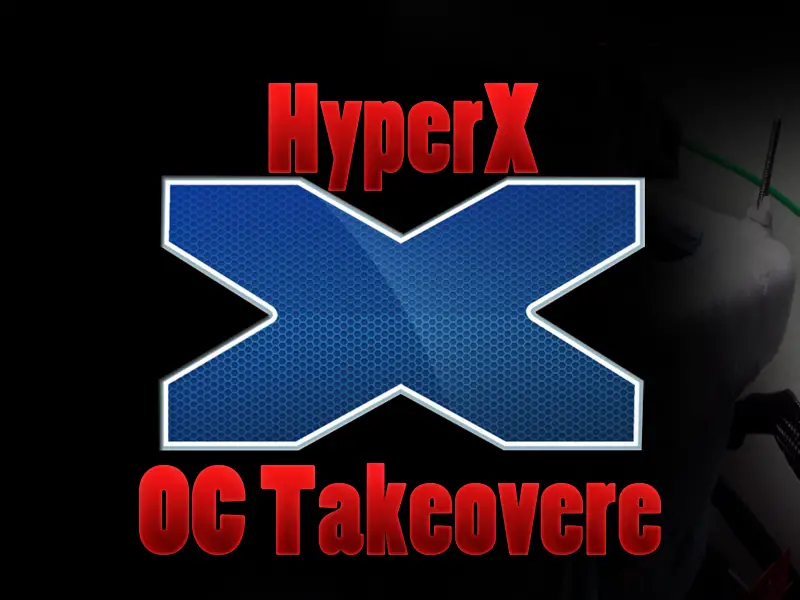 Hsinchu,
Taiwan – July 29, 2014 – 
HyperX®, a
division of Kingston Technology, the independent world leader in memory
products, today announced the 
Far East Qualifiers of HyperX OC
Takeover
 (HOT), the extreme overclocking competition, is ready
to kick off in August. Three best overclockers from Far East will win tickets
to the World Finals with an all-expense paid trip to CES in Las Vegas, and
compete for the $15,000 prize pool.
The
qualifiers will last for a month and will be divided into 3 benchmarks,
including MaxxMem Read Bandwidth, SuperPi 32M, and Intel XTU. Any member1 of
HWBOT can join the competition simply by summiting your scores online.
Mid-contest benchmark leaders in each category will be announced at the end of
week 2 and each of them will win a product bundle2.  The
final result and the top 3 finalists will be announced
onSeptember 5 (GMT -7) on HyperX official website and HWBOT
website.
In
addition to the competition, two lucky winners will be selected at the end of
week 1 and week 3 (one winner at each week), and each winner will win the
product bundle2 also.
Following
the Far East qualifier, there would be European Qualifier in September and
North American Qualifier in October. Total of Ten finalists around
the world will ultimately compete in the HyperX OC Takeover (HOT) World
Finals to be held during International CES 2015. Full details can be found
on 
here
.
HyperX
has long devoted to the overclocking communities and achieved 
the memory overclocking world record
 back
in June. GIGABYTE overclockers "HiCookie" and "Sofos1990" achieved the
world's fastest memory frequency of 4620MHz by using one 4GB HyperX
Predator 2933MHz DDR3 module (not yet available) on GIGABYTE's Z97-SOC FORCE
LN2 motherboard. The true, live frequency was accurately read via oscilloscope,
monitored by an official HWBOT representative, and then submitted on 
HWBOT.org
. Overclockers who
want to see the world record can view the entire process on video 
here
 and 
here
.
HyperX
 is the high-performance
product division of Kingston Technology encompassing high-speed DDR3
memory, SSDs, USB Flash drives, and headsets. Targeted at gamers,
overclockers and enthusiasts, HyperX is known throughout the world for quality,
performance and innovation. HyperX is committed to eSports as it sponsors
over 
20 teams globally
 and is the
main sponsor of 
Intel Extreme Masters
. HyperX can be
found at many shows including 
China Joy
, 
PAX
, 
Davao Cyber Expo
,
and 
TGS &
Big Fest
. 
For
more information visit the 
HyperX
 home
page.
HyperX
OC Takeover Far East Qualifiers Schedule: (all
times are GMT-7)
Week 1: August 1, 2014 11:00 AM to August 8, 2014
10:59 AM
Week 2: August 8, 2014 11:00
AM to August 15, 2014 10:59 AM
Week 3: August 15, 2014 11:00
AM to August 22, 2014 10:59 AM
Week 4: August 22, 2014 11:00
AM to August 29, 2014 10:59 AM
1 Employees
(either full-time or part-time) of any motherboard, memory or processor
manufacturers are not eligible for the contest.
2 Prize
bundle includes HyperX Predator DDR3-2800 8GB Kit of 2, HyperX 3K SSD 240GB,
GIGABYTE Z97X-SOC FORCE, and GELID GC-EXTREME 10G.