PNY has introduced the brand new GeForce RTX 4070 Ti LED VERTO White Edition which is the brand's first-ever attempt at churning out a full white GPU.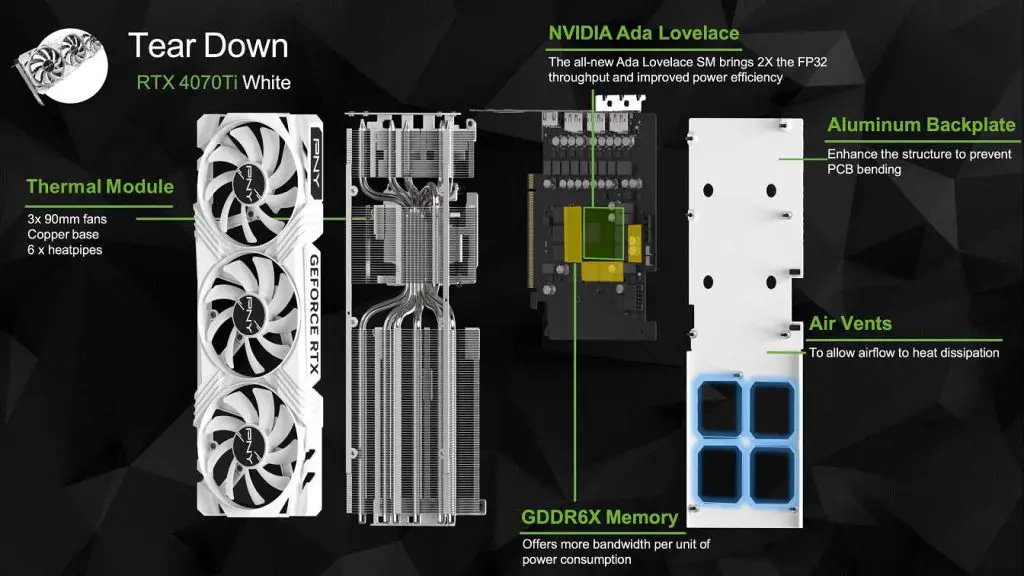 Encased in a full blank white shroud with the only black part being the center of the cooler, it boasts state-of-the-art cooling through the 3x 90mm fans and 6x 6mm diameter heat pipes combined with an aluminum backplate that helps dissipate heat while providing structural stability while large air vents easily push air through the fins.
In terms of speeds, the standard and boost clocks are given at 231MHz and 2610MHz, and as usual, it is packed with 12GB of GDDR6X VRAM. The overall size of it is big but not excessively at about 3-slot. Powered by a single 16-pin connector (two 8-pins are included in the box), there is also a support kit to give the back tip of the GPU some needed vertical strength to prevent slanting. Users may go through the Velocity X (VERTO Edition) software to gain access to fine-tuning of the clock speeds, voltage, power, and fan speeds in addition to RGB control and more.
Price and Availability
The PNY GeForce RTX 4070 Ti LED VERTO White Edition is priced at RM4,039 and is purchasable on PNY's official Shopee store.