Started off with the MasterCase 5 and its 'Make It Yours' initiative, Cooler Master has made quite a progress after they announced its maker concept and maker ecosystem 2 years ago during Computex 2015. While things are looking good for the MasterCase, some find its form factor inconvenient, especially for users who is fond with a smaller sized chassis.
Cooler Master expanded its product line this year, during Computex 2016, with the MasterBox series as one of the highlight throughout the exhibition and we're reviewing one of them in the lineup today, white with DarkMirror front panel, the MasterBox 5 Dual Tone.
(The MasterBox 5  comes in 3 variant, windowed and non-windowed black with meshed front panel and windowed white with DarkMirror front panel, a retailed at RM399)
Specifications
Model Number
MCX-B5S2-WWNN-01
Available Color
White
Materials
Steel body, Plastic front cover
Dimensions (LxWxH)
All
500 x 220 x 475mm
Motherboard Support
ATX, Micro-ATX, Mini-ITX
Expansion Slots
7
Drive Bays
5.25″
Cages are sold separately
Combo 3.5″/ 2.5″
2
SSD
1
I/O Port
USB 3.0 x 2
Audio in / out
Pre-installed Fan(s)
Front
120mm x 1
Rear
120mm x 1
Fan Support
Front
120mm / 140mm x 2
Rear
120mm x 1
Liquid Cooling Support
Front
240mm / 280mm radiator, up to 50mm thickness without fan
Rear
120mm
Clearances
CPU Cooler
167mm / 6.5″
PSU
180mm / 7.1″
GPU
410mm / 16.1″
Cable Routing
Behind Motherboard Tray
25mm – 35mm
Dust Filters
Front, bottom
Power Supply Support
Bottom mount, ATX
Unboxing
The MasterBox 5 ships in an environmentally friendly cardboard box and with its features highlighted at the back of the box.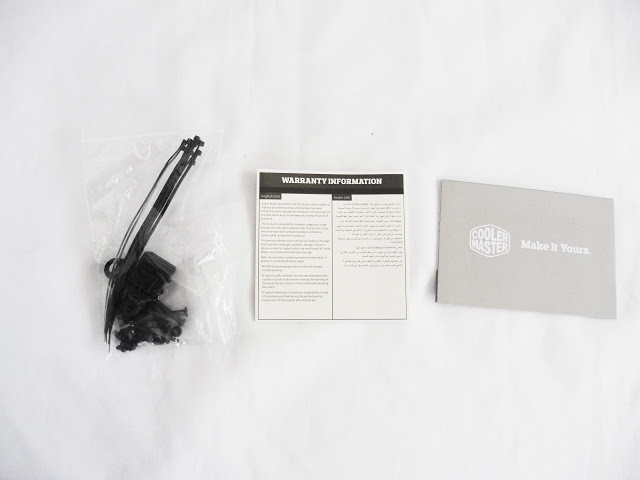 The accessories included aren't exactly fancy – a pack containing zip ties, necessary screws, stand-offs, but it's definitely sufficient to get the job done.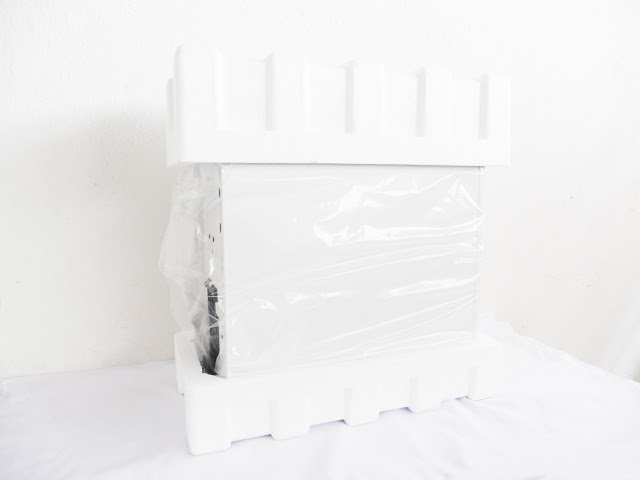 The protection were pretty standard, flanked in between 2 pieces of polystyrene foam as protection against shock during transportation and plastic cover to prevent minor scratches.
Though it comes in smaller size, the MasterBox 5 does share quite a few similarities with the MasterCase 5 in terms of design.
The front I/O has everything well labelled, 2 x USB 3.0 ports, power and reset button, audio jacks.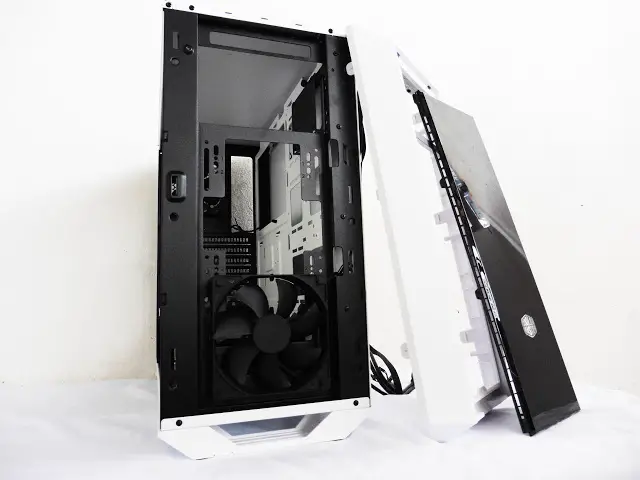 The front panel is equipped with a DarkMirror panel for the aesthetics with LED fans, and under that panel you'll find a 120mm fan for intake, as well as the support for up to 360mm radiator with an optional bracket that can be purchased from the CM Store.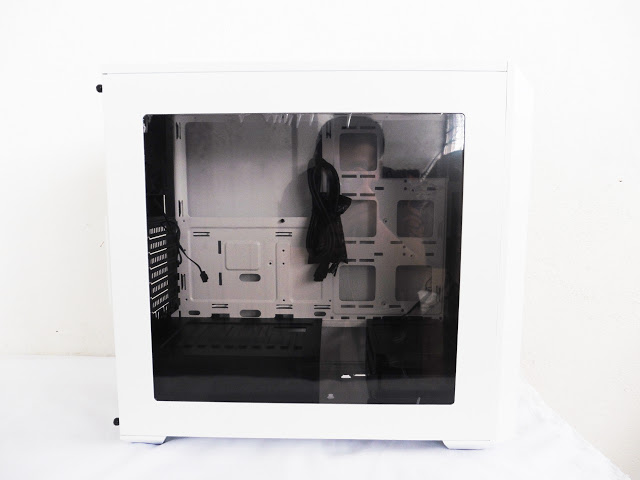 The MasterBox 5 has a windowed side panel with a large window to satisfy your need for hardware showcase.
Everything looks pretty standard at the back of the chassis, but we can see that the MasterBox 5 did come with an extra feature for vertically mounted graphics card for hardware showcase – you'll have to get your own PCIe riser though.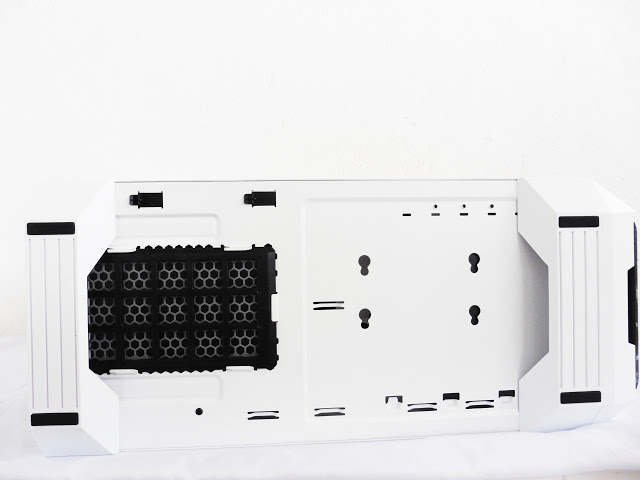 At the bottom of the chassis, you'll have the elevated design which supports better airflow for the bottom mounted power supply. And like most of the chassis nowadays, the MasterBox 5 has a dust filter included at the power supply area to minimize the dust intake to your power supply.
The interior of the MasterBox 5, with and without the power supply cover and hard drive cage. It's surprisingly spacious for a PC chassis of its size and it's capable of supporting CPU cooler up to 167mm height, graphics card of up to 307mm length, motherboard with form factor of ITX to not only ATX as what's stated in the specs, but E-ATX as well.
The MasterBox 5 too comes with a power supply cover for the aesthetics, a design that has become a new trend and can be seen on the products of big players in the PC chassis market.
The removable hard drive cage support up to 2 HDD and the SSD bracket can be mounted on top of the cage, which ever that suits you, just make it your way.
The MasterBox 5 supports 240mm/280mm radiator by default, and up to 360mm radiator with an optional bracket that can be purchased from CM Store for water cooling setup and if you need a thicker radiator, or just wanted to have a push and pull setup, all you have to do is to remove the hard drive cage for that extra space required.
The 2.5″ drive mount supports up to 3 drives, though you will need to purchase that extra 2.5″ drive bracket as the MasterBox 5 only comes with one.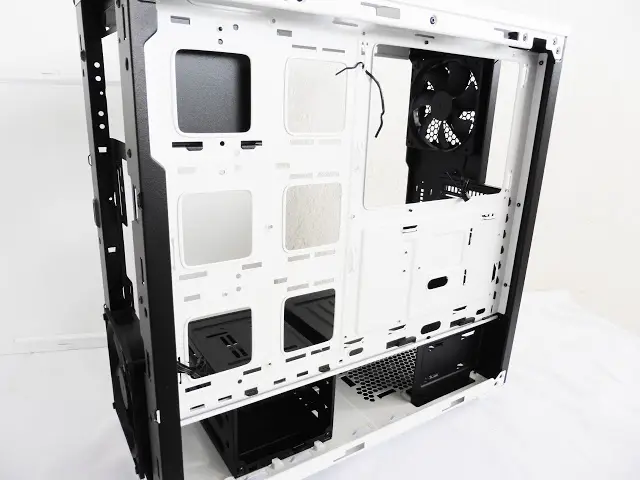 Behind the motherboard tray, you'll find more of what the MasterBox 5 can offer. Cutout for 2.5″ drive mount, cutout for cable routing and of course, a plenty amount of space to get all the magic done with this small chassis.
Performance Test
Test Rig Configuration

 

CPU Cooler

 

be quiet! Dark Rock Pro 3
CPU

 

I7 4790K @4.6GH
Graphics Card

 

EVGA GeForce GTX 770 SC
Motherboard

 

ASUS ROG Maximus VII Hero
Memory

 

Kingston Savage DDR3 16GB kit
Primary Hard Drive

 

Crucial M500 120GB
Power Supply

 

be quiet! Straight Power 10 600W PSU
Chassis

 

Cooler Master MasterBox 5
Display Monitor

 

Dell U2312HM
Moving on to the performance test, we ran a few stress test with the setup that we've prepared as above. These involves the CPU stress test utility Prime95 with the option 'In-place large FFTs' while GPU stress test utility FurMark with its Furry Donut stress test for maximum heat output from both the CPU and GPU.
Verdict
While it doesn't offer modularity and expandability as much as a MasterCase 5, the MasterBox 5 is one very capable chassis of its size, a small sized but spacious mid-tower that offers quite a reasonable support for high-end motherboards and graphics card, CPU coolers and water cooling kit – all that's enough for you to build a very capable gaming rig. On top of that, the large window on the side panel provide excellent hardware showcase, something you can proudly brag to your friends and family.
In short, if you need a good enthusiasts grade chassis for all the high-end components, cooling solution, yet not a big fan of a colossal chassis, the MasterBox 5 is one good alternative for all those needs, at a considerable price tag of RM399.
Pros
Simple and sleek design
Good features and build quality
Good hardware compatibility
Comes with power supply cover
Decent cable management design
Reasonable support for water cooling setup
Cons
Comes with only one 2.5″ HDD/SSD mounting bracket
The included fan isn't moving a lot of air
Odd position of the PSU cover cutout for cable routing