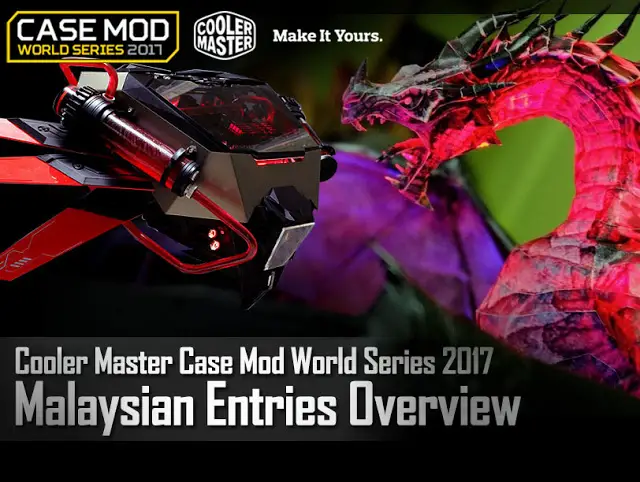 It's been nearly 3 months since Cooler Master announced its annual PC modding competition,
Case Mod World Series 2017
. PC modding experts around the world are giving their very best to create the best mod for this year to earn both the prize and glory with the result their absolute craftsmanship. 
Over 100 mods has been submitted as of today and is open to the public for to vote for this year's best mod in both the Tower build and Scratch build category. Browsing through the list of submitted mod, we can't seem to find any Tower build from Malaysian participant this year, but we've noticed some interesting submission from the Malaysian participants in the Scratch build category.
Scratch Build – The Battleship by Ahmad 'HammanChronicle' Syafiq Hamman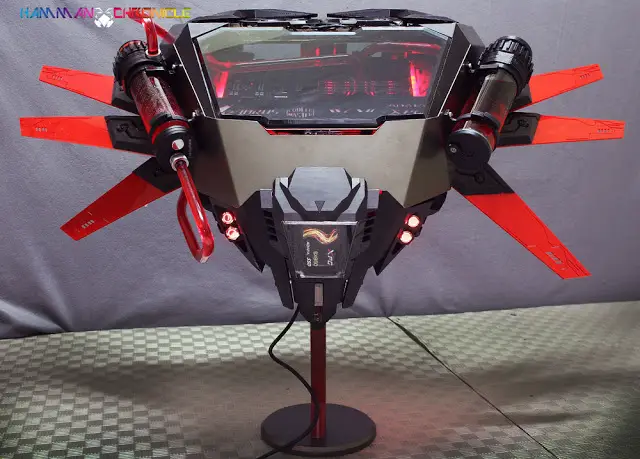 Syafiq Hamman, aka HammanChronicle is a Malaysian PC modder who has just started PC modding early of this year. As a person who has deep passion in both PC and design, Hamman decided to make his debut in the PC modding scene after the influence of the work from Mod'n'Go Design over the years.
Instead of starting off his PC modding with the Tower build which deemed to be easier for most beginners, Hamman decided to go for the Scratch build. While Scratch are known to be difficult, Hamman prefer it this way as it gives him more freedom in expressing his ideal build.
"About my project , i called it "The Battleship" an alien warship , it was inspired from movie called "Battleship" in 2012 , There is reason why I choose this movie. I like the way they create strategy to fight the alien battleship and its one of the best strategy movie i ever see.", said Hamman.
Scratch Build – Guardian Dragon by Khairul 'Buckroger' Sebastian
Khairul Sebastian, or better known as Buckroger Endevour, is a PC modding hobbyist from Malaysia. Buckroger started his PC modding hobby back in the year 2009, aiming to make every of his work "unique and practical". 
Project RIKI
 was his first submission for Cooler Master Case Mod World Series back in the year 2015, inspired by his favorite DOTA character, the Stealth Assassin Rikimaru. 
Due to time constraints, PC modding is now a free time only activity for Buckroger, but that doesn't stop him from submitting his work for Case Mod World Series 2017. If you're a loyal fan of 'The Elder Scrolls' series RPG that has been going on for the past 20 years, you'll definitely recognize the dragon at first glance. 
"For me case modder is similar blacksmith who make legendary weapons in ancient time. In the past we can see all legendary weapons are well crafted with the finest arts.  Today, we do the same thing, but today our weapon is the computer."
Scratch Build –  Cloud Queen by Mohammad Hirzan 'Izan' Md Zahar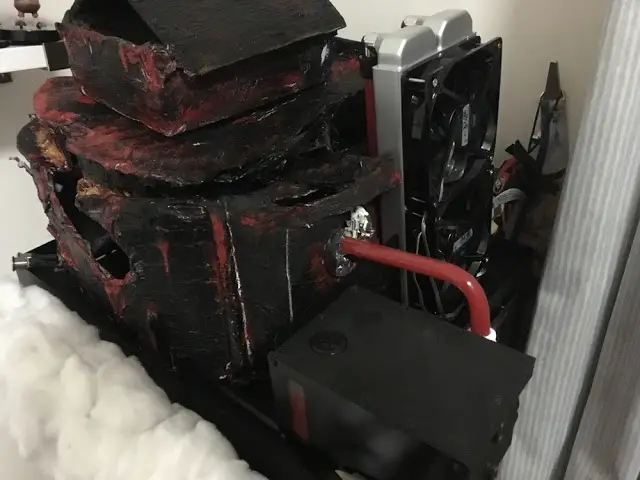 Mohammad Hirzan Md Zahar, or Izan, a Mechanical Engineering student from Curtin University Sarawak, Malaysia who discovered his passion for PC modding back in the year 2016. It all started from his Guitar PC project by turning his old, unused guitar into a working PC.
He's been following the work from renown PC modders around the world since then and has decided to make his debut in the Cooler Master Case Mod World Series 2017. Instead of spending a big fortune on expensive parts, Izan decided go for the budget friendly method using recyclable materials and other parts from China.
"For this entry, my main objective was to mod a case with minimum amount of budget.  My idea was modding a case with a castle-cover with a cloud underneath. I used recycle materials such as empty bottles, boxes and toilet paper. Most of the materials used were very easy to get.  I bought the cotton for the cloud from pharmacy.  Most of the work I did inside my room. Only when I need to cut the metal case, I did it outside or my house will burn.  Due to the time constraint, my result is quite bad and I am not quite satisfied with it.  But I am grateful that I managed to complete it before my flight back to Miri. I actually finished the mod a few hours before my flight. ", said Izan.