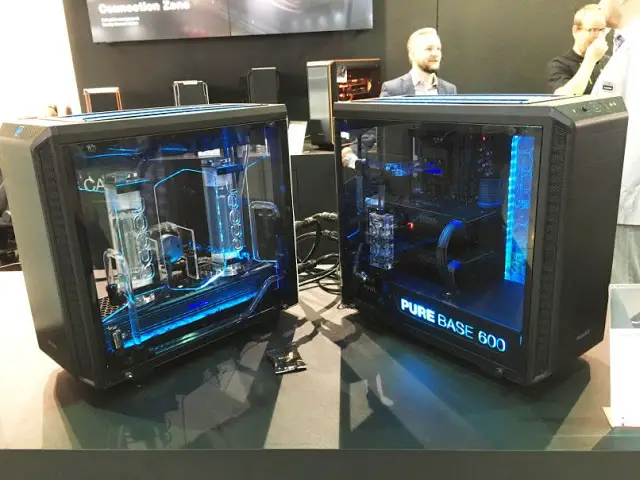 This year at Computex 2017, be quiet! showcased quite a few interesting new products which include a new wire-free premium power supply series, Straight Power 11, as well as the company's first SFX L power supply, and a limited edition of the award-winning Dark Base Pro 900 PC chassis in white. 
New revision of the Shadow Rock Topflow, the Shadow Rock TF 2 CPU cooler and the new Silent Loop 360mm All-in-One water cooler that is equipped with a 55mm thicke 360mm will also make appearances at this year's Computex, following their recent reveals at CeBIT 2017.
Bigger Radiator For More Cooling Performance – Silent Loop 360mm
With its innovative whisper-quiet reverse-flow pump and high-quality build, Silent Loop's debut in 2016 made an impressive impact in the All-in-One water cooling market. be quiet!'s portfolio expands with the introduction of its 360mm Silent Loop variant. Silent Loop 360mm is compatible with be quiet!'s Dark Base 900, Dark Base Pro 900 and Pure Base 600 chassis. 
Three Pure Wings 2 120mm PWM fans with airflow-optimized fan blades help handle cooling, both silently and efficiently, while Silent Loop 360mm's nickel plated copper cooling block improves synergy with different kinds of thermal grease.
Limited Edition White Colored Dark Base Pro 900
To thank its fans for the success of its Dark Base Pro 900 in 2016, be quiet! is releasing an eye-catching limited edition of its flagship PC case in white. Each piece will be unique, boasting the same features that made the Dark Base Pro 900 popular, including its outstanding cooling capabilities and versatility, E-ATX and XL-ATX motherboard support, preinstalled SilentWings 3 fans, panels with installed sound proofing, attractive LED light strips, wireless charging for Qi enabled devices, a large tampered glass side window and much more. The Dark Base Pro 900 White Edition is limited to 2,000 pieces, each coming with a numbered aluminium badge.
New Wire-Free, Fully-Modular Power Supply – Straight Power 11
The Straight Power 11 is rated at 80PLUS Gold with efficiency up to 93%. This latest Straight Power power supply features a completely redesigned PCB with an innovative wire-free design on the DC side. By being wire-free, this means having less cables inside the power supply will improve airflow and cooling as well as resulting in less signal disturbance and a longer component lifecycle. In the end, with its upgraded LLC + Synchronous Rectifier + DC-to-DC technology, the signal quality of Straight Power 11 is lifted to a higher level. 
To make sure the power supply stays cool, be quiet! uses a 135mm version of its own high-end SilentWings 3 fan. The funnel shaped frame, fluid-dynamic bearings and 6-pole motor guarantee Straight Power 11's excellent reliability and virtually inaudible cooling. Straight Power 11 integrates the full suite of current protection circuits (OCP, OVP, UVP, SCP, OTP and OPP) and only uses 105°C rated Japanese capacitors. To further improve security and stability, the 12V rails are divided into four separate rails. Straight Power 11 line will be available with full cable management and rated from 450W up to 1,000W.
New Air Cooler – Shadow Rock TF2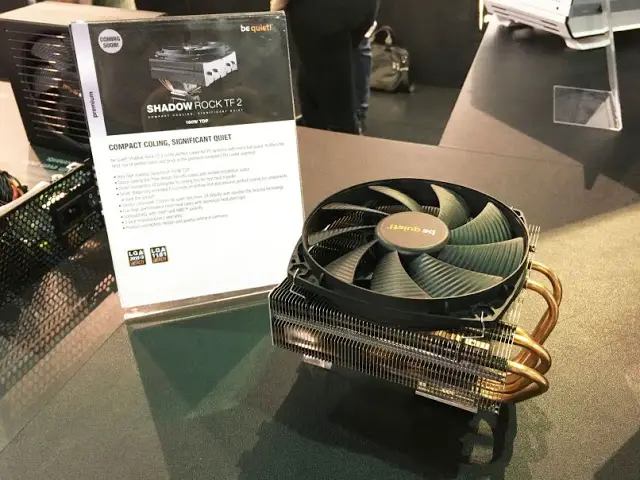 Designed for PCs with limited space, the 112mm (including fan) height Shadow Rock TF 2 is the ideal top flow cooler, offering powerful cooling and great performance at a reasonable price. With a TDP rating of 160 W, the Shadow Rock TF 2 is powerful enough to handle all current processors while reaching significantly lower CPU temperatures than its predecessor.
be quiet!'s innovative design improvements include a completely redesigned heat sink with small diagonally arranged fins that guide cool air to all components surrounding the CPU socket. 
The direct connection between baseplate and cooling fins supports five 6mm copper heat pipes, making for a faster heat transfer. Shadow Rock TF 2 is compatible with all Intel and AMD sockets, including AM4.
Fully-Modular, Small Form Factor PSU – SFX L Power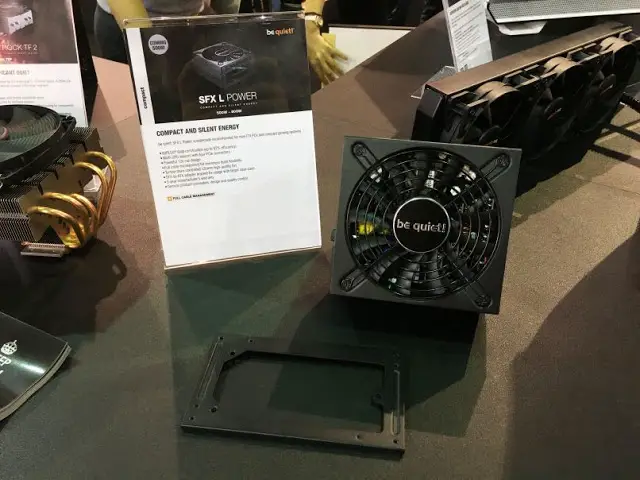 SFX L Power is the ideal PSU for Mini-ITX systems. With its compact SFX-L form factor and ATX adapter bracket, it fits in most chassis, leaving more than enough room for a larger and quieter temperature-controlled high-quality 120mm fan.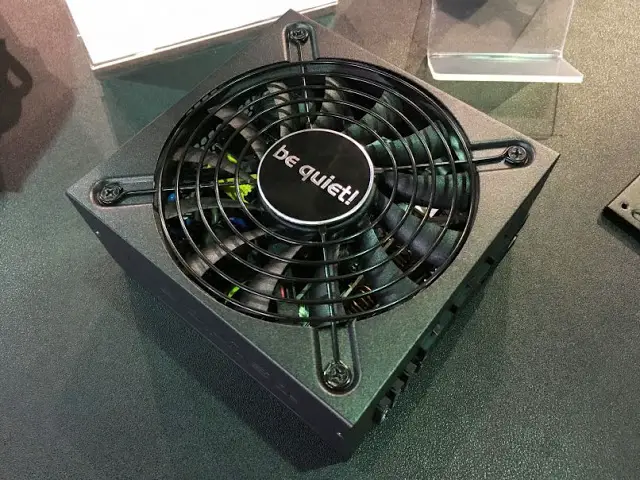 Without giving up cooling performance, the fan operates silently and at a lower speed than 80mm fans commonly used in SFX power supplies. With the SFL Power, users do not need to compromise on silence when it comes to powering their compact gaming or media system. 
Available in either 500W or 600W models, SFX L Power includes 80PLUS Gold certification with a rating of up to 92% efficiency, full cable management, four PCI express connectors for multi-GPU configurations and is rounded off with the full suite of protection circuits (OCP, OVP, UVP, SCP, OTP and OPP).