Earlier today, we published an article talking about some of the leaked motherboards that VideoCardz had detailed. Now, these boards are official. They have a few key highlights, namely a new power delivery system that ASUS touts.
Within the new ASUS Z490 series of motherboards, we have motherboards ranging from enthusiasts, gamers, and also professionals. All of these motherboards are made for the latest Intel 10th gen Core processors and complimented with lots of I/O, including WiFi 6, high-speed Ethernet, and also USB 3.2 Gen 2×2.
ASUS also pushed forward AI-powered features like AI Overclocking, AI Cooling, AI Networking, and also GameFirst VI on ROG motherboards and CreationFirst on ProArt motherboards. To further strengthen ASUS's position in the overclocking scene, select new Z490 motherboards have advanced PCB traces to improve memory signal integrity with OptiMeM III, which supports up to 5000MHz DDR4 kits.
ROG Maximus XII Extreme
The first of the bunch is ASUS's top-end motherboard. The ROG Maximus XII Extreme is the wet dream for those who aim for the best CPU, multiple graphics cards, and the fastest storage. To make sure the power delivery is at its best, ASUS used a set of MicroFine Alloy chokes with teamed power stages and ASUS ProCool solid pins. The thermals of the VRM is also kept in check with highly-conductive thermal pads to wick heat into the heatsink array.
The additional solid aluminum plate provides additional mass to wick heat away from the NVMe storage drives. Of course, being an enthusiast motherboard, the Maximus XII Extreme has ASUS OptiMem III technology. ASUS also touts over 80% out-of-the-box compatibility of 4600MHz DDR4 kits. It also has onboard POST code LED display next to the Power-on, Retry, and Safe Boot buttons.
There are a total of 2x M.2 slots on the board itself and 2 more on the DIMM.2 card, USB 3.2 Gen 2×2 Type-C port that can go up to 20 Gbps. Three additional USB 3.2 Gen 2 ports — one Type-C and two Type-A — deliver speeds of up to 10Gbps. It also has an Intel 2.5Gb Ethernet and another Marvell 10GbE controller. There's also WiFi 6 with Bluetooth 5.1 conenctivity on the motherboard.
Also, it has a bundled ThunderboltEX 3-TR add-on card that provides bi-directional speeds of up to 40Gbps via a single cable. Additionally, an integrated Thunderbolt 3 header can support up to six devices in a daisy-chain and provide up to 100 watts of power to fast-charge devices.
ROG Maximus XII Formula
This motherboard is built with liquid-cooling in mind. It has the CrossChil water block for its VRM, which is made in collaboration with EK Water Blocks.
For enthusiasts, there is a POST code LED display, dedicated power and reset buttons at the upper right hand corner. There are two M.2 slots at the front of the board and another one at the rear. All of them can be configured in RAID, too.
The new Maximus XII Formula also comes with 10Gb and 2.5Gb Ethernet, along with WiFi 6 and Bluetooth 5.1 connectivity.
ASUS ROG Maximus XII Hero (Wi-Fi)
ROG Maximus XII Hero (Wi-Fi) has support of up to three NVMe storage devices, all cooled by dedicated heatsinks. This board features an Intel WiFi 6 adapter and two Ethernet ports, with one delivering speeds of up to 5 Gbps. There's also AI Overclocking to make overclocking easier, and it also has ASUS OptiMem III trace layout.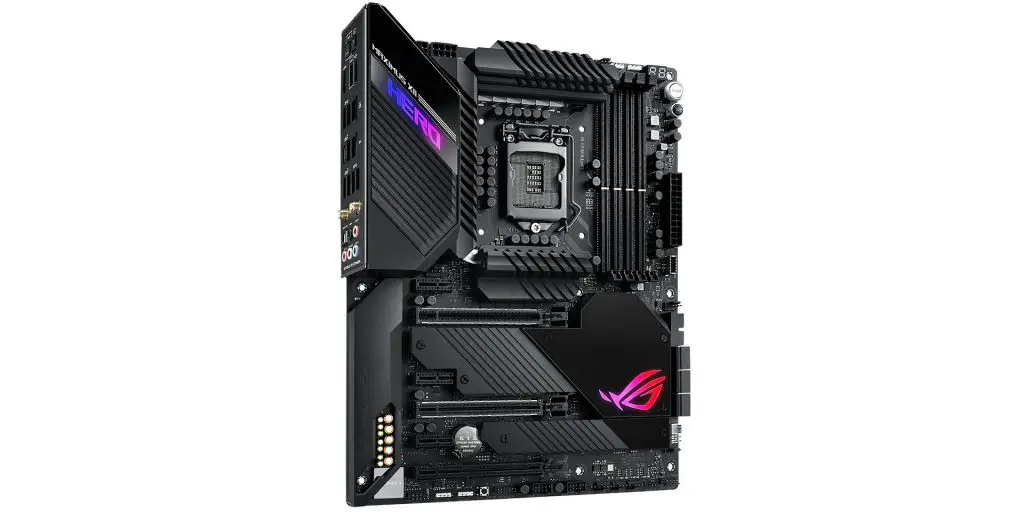 ASUS ROG Strix Z490-E
This motherboard has heatsink with embedded heatpipe to cool the VRM, and has a six-layer PCB and ProCool II auxiliary power connectors ensure smooth and stable power delivery. There's also an optional fan to be attached to the VRM heatsink for additional cooling for overclocking.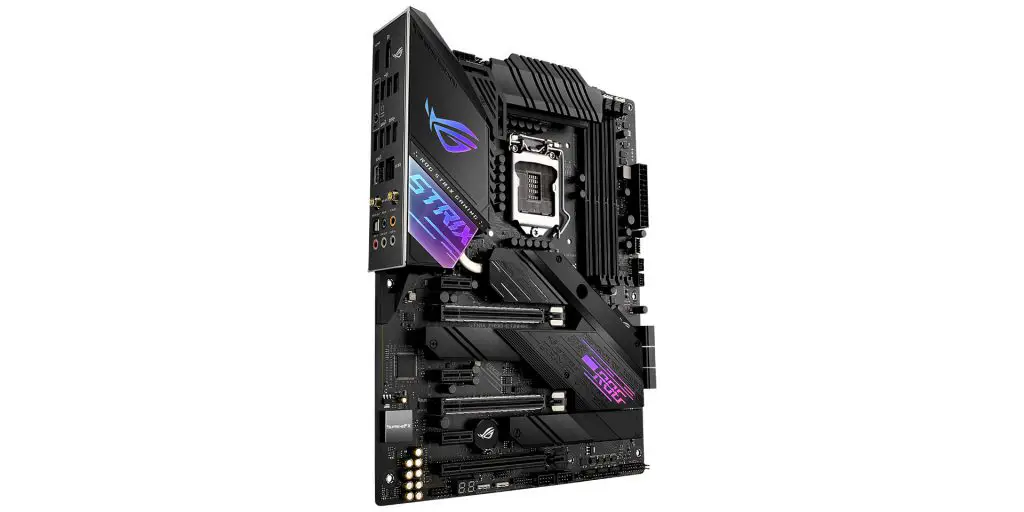 The Strix Z490-E Gaming also has 2.5Gbps Ethernet and WiFi 6 with Bluetooth connectivity built-in. Two M.2 slots are available for NVMe SSDs, too. To complete the high-speed connectivity experience, the new Z490-E Gaming has USB 3.2 Gen 2 Type‑C port and also compatible with the additional ThunderboltEX 3-TR card.
ASUS ROG Strix Z490-I Gaming
The mini-ITX ROG Strix Z490-I Gaming motherboard has a compact eight-layer PCB to maintain signal integrity and passive heat dissipation.
Despite its small size, this tiny motherboard can support two M.2 SSD devices and a total of 13 USB ports, including 3x USB 3.2 Gen 2 Type-A ports and another Type-C.
ROG Strix Z490-A Gaming
It's a white gaming motherboard! It also has rows of RGB LED strips to make it stand out further. In terms of specs, it is similar to the Strix Z490-H.
ROG Strix Z490-G Gaming (Wi-Fi)
This ROG Strix Z490-G Gaming (Wi‑Fi) is an mATX motherboard that still has a lot of connectivity options. It has 2.5Gb Ethernet and WiFi 6, 2x PCIe x16 slots and a PCIe x1 slot, with two more M.2 SSD slots.
TUF Gaming Z490-Plus (Wi‑Fi)
TUF Gaming Z490-Plus comes with a six-layer PCB for better heat dissipation and signal integrity, has TUF capacitors with high heat tolerance and ProCool solid-core auxiliary power inputs complement the main power circuitry. Ports-wise, there are 2x PCIe x16 slots with the main one featuring metal reinforcement. There are also 2x M.2 SSD slots.
As for I/O, this motherboard has USB 3.2 Gen 2 ports in both Type-A and Type-C variants. This motherboard is also compatible with the ThunderboltEX 3-TR card through its onboard Thunderbolt 3 header. It also supports WiFi 6 and Bluetooth 5.1 connectivity.
ASUS ProArt Z490-Creator 10G
For the ProArt motherboard, this new ASUS ProArt Z490-Creator 10G is made for professional creators or developers. To deal with large files (because we all do), the motherboard has 2x Thunderbolt 3 Type-C connectors powered by the Intel 'Titan Ridge' controller.
As for the rear, it has 4x USB 3.2 Gen 2 Type-A connectors and 2x USB 3.2 Gen 1 Type-A ports. There's also a 2.5Gb Ethernet controller and a 10Gb Ethernet expansion card.
ASUS Prime Z490M-Plus
The new Prime motherboard now comes packed with a lot of features too. It supports the latest 10th Generation Intel Core CPU, has memory support of up to 4400MHz with the ASUS OptiMem trace design.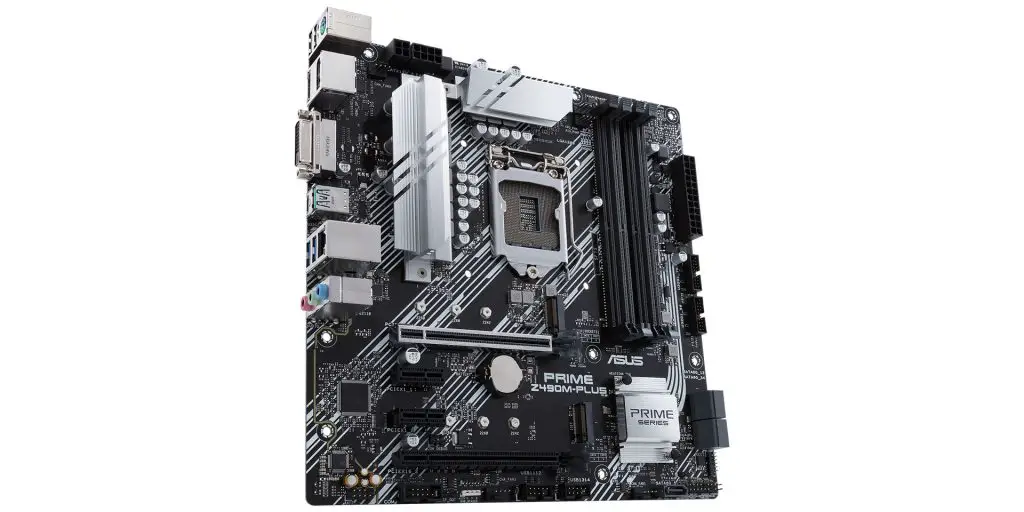 ---
Pricing and availability
No information on that yet but we'll update this page when we have more information.