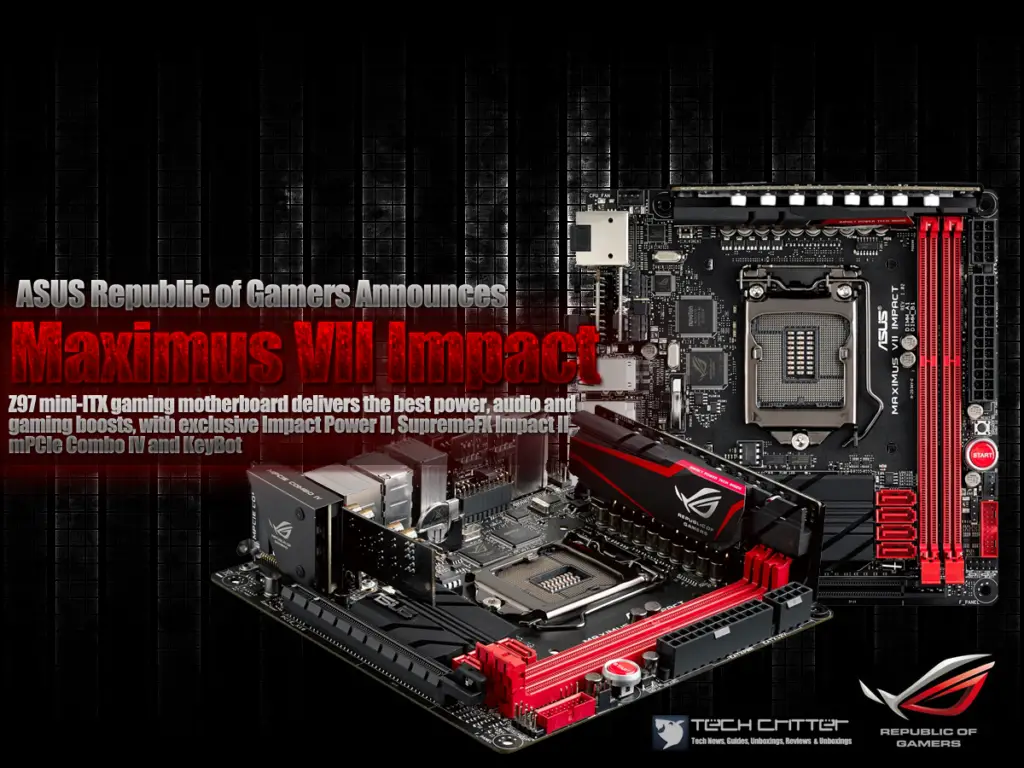 Kuala
Lumpur, Malaysia (14th August, 2014) — ASUS
Republic of Gamers (ROG) today announced the immediate availability of Maximus
VII Impact here in Malaysia. The Z97 chipset-based mini-ITX gaming motherboard
ready for the latest 4th-, new 4th- and 5th-generation Intel® Core™
processors — codenamed 'Haswell', 'Haswell Refresh', 'Haswell Refresh K-Series'
('Devil's Canyon') and 'Broadwell' — and engineered with new and exclusive ROG
game-boosting features to provide ATX-level power and performance.
Maximus
VII Impact's exclusive innovations includes the Impact Power II full-scale
voltage-regulator module (VRM) for ultra-smooth, ultra-reliable power,
SupremeFX Impact II dedicated sound card for flawless audio, Intel Gigabit Ethernet
and GameFirst III for no-lag networking with a winning advantage and the
fastest connectivity from the pre-installed mPCIe Combo IV module — dual-band
802.11ac Wi-Fi and PCI Express 3.0 M.2 x4.
The
combination of these premium technologies enables Maximus VII Impact to deliver
the best gaming power, gaming audio, gaming networking and gaming boosts in a mini-ITX
motherboard.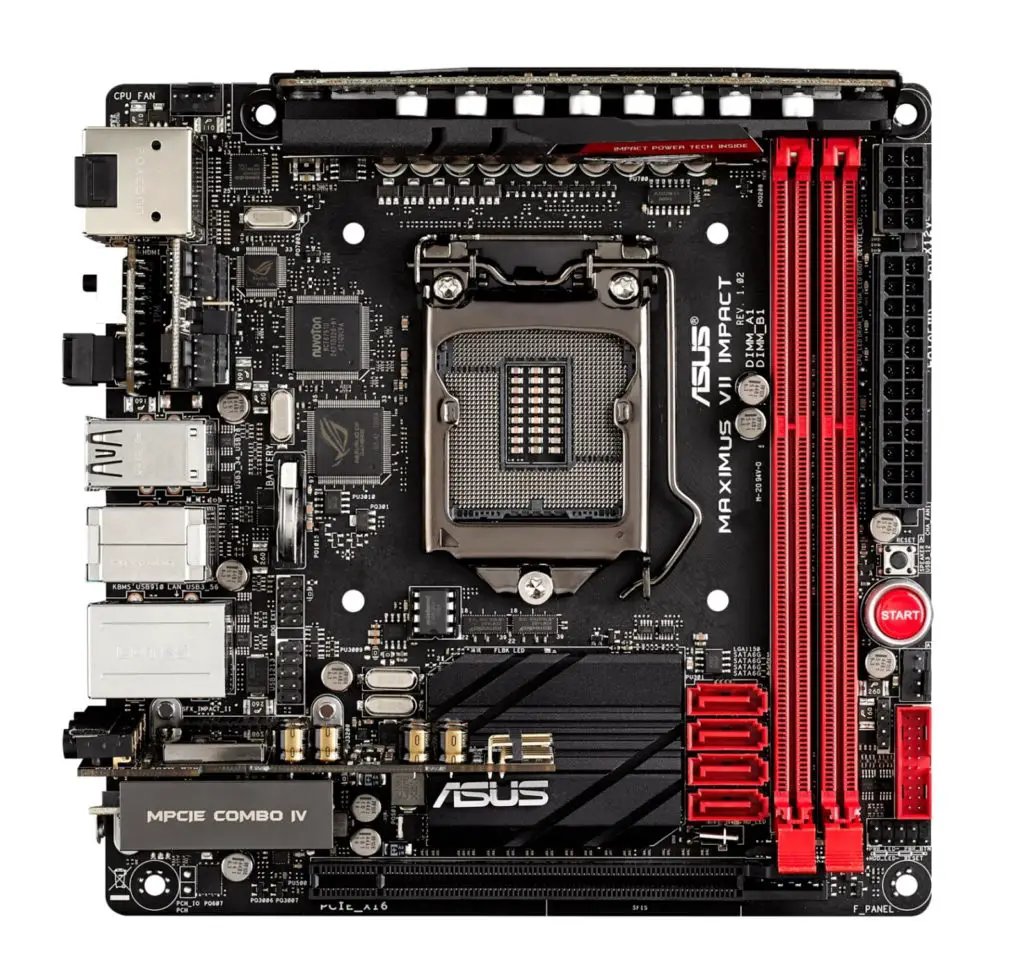 Best mini-ITX gaming power
Maximus VII Impact's
Impact Power II card is vertically-mounted, enabling ROG engineers to create a
full-scale VRM that would otherwise be impossible on a mini-ITX board.
The completely-digital
power-control architecture is engineered with premium components, including Japanese-made
10K black metallic capacitors for 20%-greater extreme-temperature endurance and
a lifespan that's up to five times (5X) longer than other capacitors. Impact
Power II additionally benefits from 60A BlackWing chokes, whose wing-like fin
design generates temperatures that are up to 5°C lower than other designs. A
highly-conductive, gold-treated coating also increases conductivity for
minimal-loss power delivery, while the NexFET™ MOSFET is just half the size of
previous designs while delivering the same power for efficiencies of over 90% —
and that means great energy savings and added stability for all operations.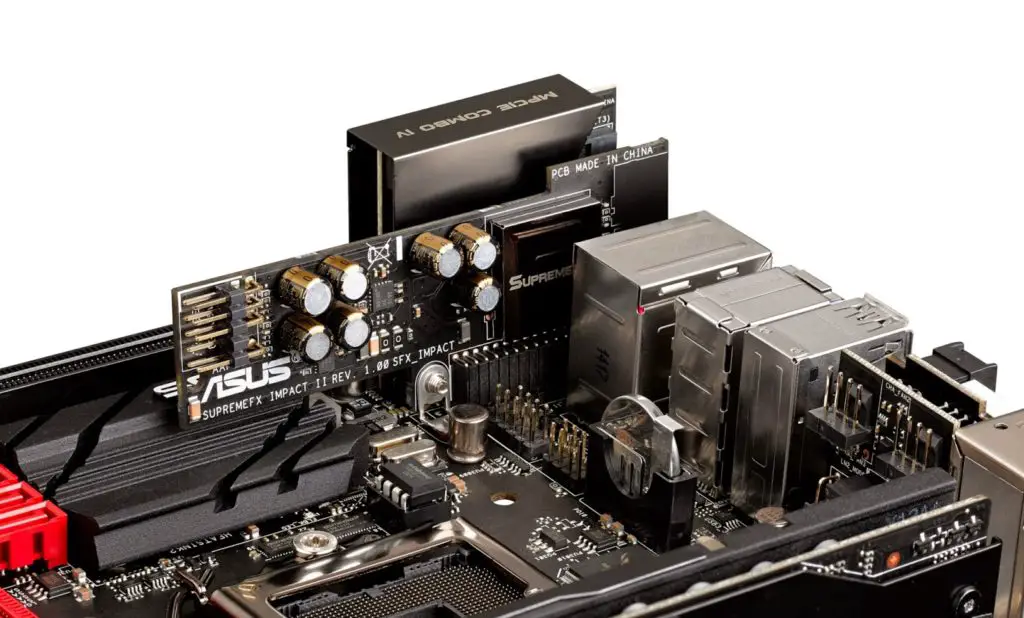 Best mini-ITX audio
SupremeFX Impact II
is Maximus VII Impact's dedicated audio card, a blade of sound that brings to
life soundtracks and every in-game effect.
Building on the original
SupremeFX Impact card, which was acclaimed both by the media and by ROG
customers, SupremeFX Impact II employs cutting-edge isolation technologies to minimize
electromagnetic interference (EMI) and has exceptionally-premium components to deliver
best-in-class audio.
SupremeFX Impact II is
supported by Sonic Studio, a brand-new audio-tuning suite that provides an
aural treat. Just one click enables 7.1-channel virtual surround sound through
a stereo (2.0-channel) headset, providing immersive gaming experiences for all.
Sonic Studio's superb audio controls include Reverb, Bass Boost, Equalizer, Voice
Clarity and Smart EQ.
Maximus VII Impact's
audio armory also includes Sonic Radar II. Designed for first-person shooter
(FPS) games, Sonic Radar II displays a stealthy overlay that shows what
opponents and teammates are up to. Players see the precise direction and origin
of in-game sounds such as gunshots, footsteps and call-outs, so they're able to
practice enemy-pinpointing skills, and exclusive audio enhancement further
enhances in-game sound for superb hearing awareness. This all-new version of Sonic
Radar II includes a redesigned control panel with customizable game list, so
settings are easily tailored to a personal games library.
Best mini-ITX networking
Maximus VII Impact is
equipped with state-of-the-art Intel Gigabit Ethernet that delivers better
throughput with lower processing power for superior speed and increased
efficiency. By communicating directly with Intel processors, this technology offers
exceptionally-high Transmission Control Protocol (TCP) and User Datagram
Protocol (UDP) throughput, lowering overall processing demands and improving
efficiency — releasing more power for games and gameplay. Using independent
network-assessment tools, ROG engineers calculated that Intel Gigabit Ethernet
deals with the UDP data packets that are vital for responsive gaming up to two
times (2X) faster than competing gaming-LAN technologies.
Maximus VII Impact gamers
also enjoy ROG-exclusive GameFirst III technology for no-delay gameplay. This
advanced network-optimization software assigns top priority to game-data
packets, allocating them more bandwidth to ensure the best online-gaming
experience and clear, stutter-free online team-chat — all controlled with ROG's
usual intuitive flair.
The new motherboard
includes ROG's reinvented RJ45 socket — LANGuard. Advanced signal-coupling
technology and premium surface-mounted capacitors improve throughput, while
surge-protected and electrostatically-guarded components (ESD Guards) protect
against lightning strikes and static-electricity discharges.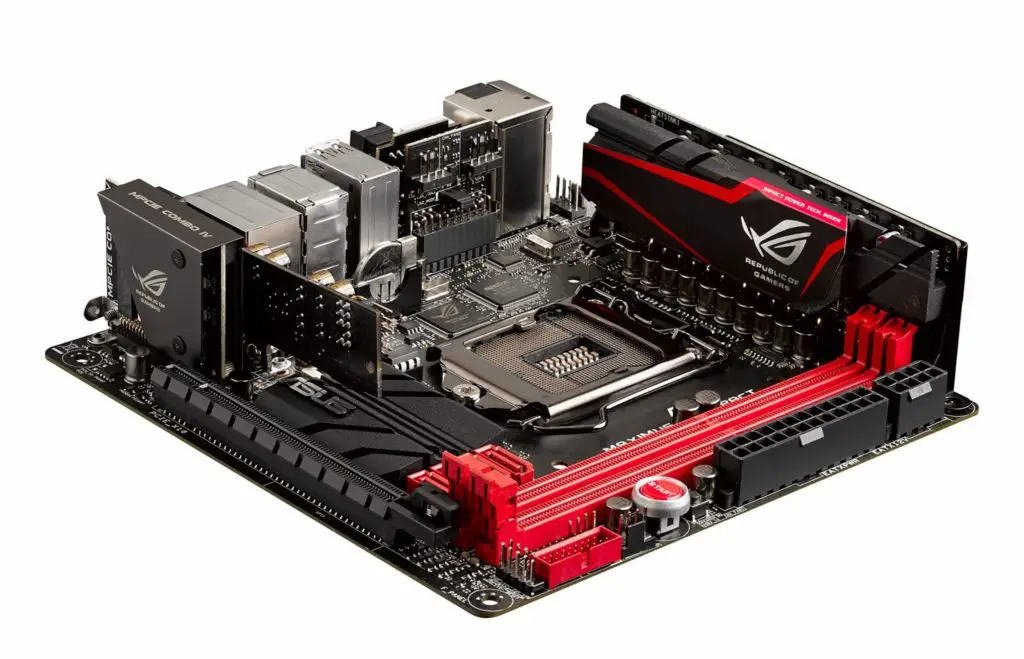 Best gaming boosts
Maximus VII Impact is
packed with innovations that give gamers vital boosts. These include the upgraded
mPCIe Combo IV + 802.11ac / Bluetooth 4.0 module for the latest high-speed connectivity,
with mini PCI Express (mPCIe) on one side and a PCI Express 3.0 x4 M.2 socket
on the other for direct-from-processor transfer speeds of up to 32Gbit/s —
that's over six times (6X) faster than traditional M.2 solutions.
KeyBot provides games
with another brilliant boost, offering a free upgrade for any keyboard. Plugging
an existing keyboard into the dedicated USB socket activates Maximus VII Impact's
exclusive KeyBot microprocessor, allowing gamers to record 15-keystroke
sequences as macros that can be assigned instantly to any key — a great way to
automate almost any laborious task or speed up in-game actions.
Maximus VII Impact
also boosts protection for gamers, with Gamer's Guardian. This collection of high-quality,
highly-durable components provides exceptional real-world protection, from onboard
resettable fuses that protect the connection ports and DRAM against overcurrent
and short-circuit damage to ESD Guards on the USB ports and audio connectors and
LANGuard port to protect Maximus VII Impact from sudden electrostatic discharge
(ESD).
The black nickel-coated
Q-Shield protects hands from nicks and cuts, Q-DIMM makes fitting and removing
memory modules easier and safer, and the corrosion-resistant, stainless-steel
back input/output (I/O) panel lasts up to three times (3X) longer than
traditional panels.