The AMD AM5 family is welcoming yet another new series of desktop CPUs which is the extra-buffed X3D lineup debuting in the Ryzen 7000 banner.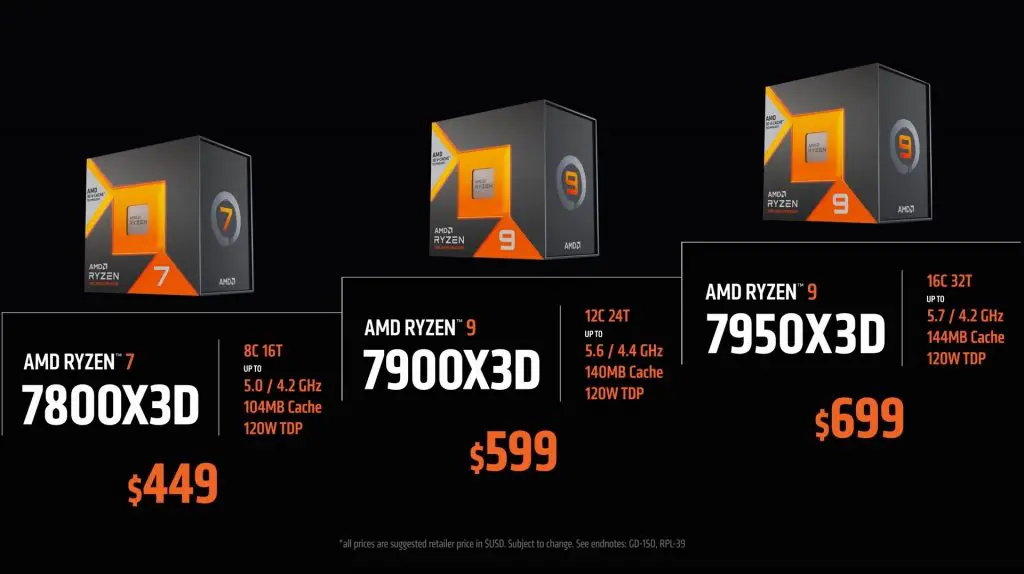 Consisting of 3 new SKUs at launch, the Ryzen 7000X3D combines the advantages of the Zen 4 architecture of high efficiency + high-performance cores together with the 3D V-Cache technology and for the first time, the Ryzen 9 finally has some screen time in addition to the Ryzen 7 which is the one and only representative back in the Ryzen 5000 series days.
Thanks to breakthroughs in fabrication processes, the amount of cache increases vastly from the technology's first debut with 100MB to the now topped-out 144MB for the Ryzen 9 7950X3D for a 44% improvement. Heck, even the lowest tier Ryzen 7 7800X3D is at 104MB so no "Staying at Square One" tactics here. For a quick reminder, the X3D CPUs do not come with a cooler so make sure to get an aftermarket unit yourself with recommendations from Team Red mentioning a 280mm AIO liquid cooler for the best balance.
Here's what the three new CPUs look like on paper.
SKU

Cores / Threads

Base / Boost Clock

Cache

TDP

Price

Ryzen 9 7950X3D

16/32
4.2GHz / 5.7GHz
144MB
120W
USD699

Ryzen 9 7900X3D

12/24

4.4GHz / 5.6GHz

140MB

USD599

Ryzen 7 7800X3D

8/16

4.2GHz / 5.0GHz

104MB

USD449
From the looks of it, it feels like the Ryzen 7 lacks behind in the boost clock and cache capacity department by quite a margin so if you can squeeze yet another 150 dollars out of your pocket you'll see a significant improvement in your workloads and future-proof your setup by another extra one to two years which is not bad.
Will you pick one up just to flare against Team Blue's performance and power consumption, especially in gaming? Let us know!