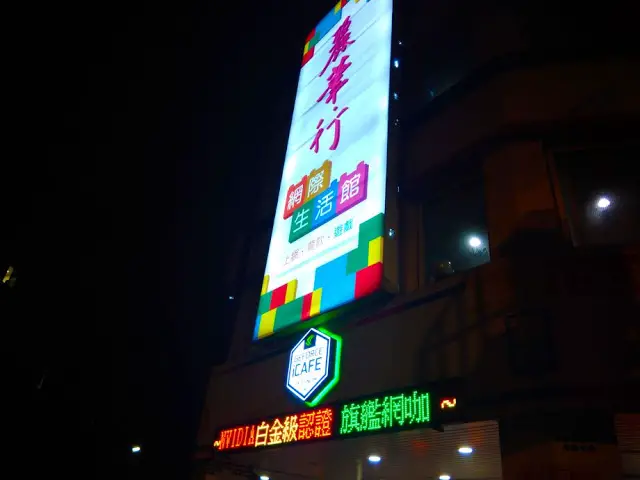 Thanks to the steady growth of E-Sports scene in Malaysia, internet cafes throughout the nation is slowly transforming into training ground where potential E-Sports athletes gathers to brush up their skills. 
Orange E-Sports Stadium, Mineski Infinity Cyber Cafe, Blitzone E-Sports Cyber Cafe are some of the well known internet cafes in Malaysia that is willing to take the initiative to change the way of how people look at internet cafe nowadays. Some of the mentioned internet cafe even participated in NVIDIA's GeForce iCafe, an ongoing effort to provide the ultimate platform for gamers, delivering best-in-class performance, the latest gaming technologies, and world-class driver support.
During our trip to Computex 2017, we took the chance to visit one of Taipei's very best internet cafe, LHH Cyber Cafe to have a quick peek into the future of what can be achieved by our local internet cafe giants.
LHH Cyber Cafe is located at Songshan District of Taipei City (as shown in the map above), which is a rough 20 minutes walking distance if you happen to be around Xi Men Ding area. 
With over 200 units of PC powered by NVIDIA GeForce GTX 1060 and GTX 1070 graphics card, LHH Cyber Cafe are among the GeForce iCafe Platinum certified internet cafes that meets the requirements of:
All  PC are equipped with NVIDIA GeForce GTX  graphics and 150 units GTX 1050 above
An e-Sports Zone for 6 v.s. 6 match, with PC equipped with GTX 1080 above + G-Sync monitor
A VR experience zone
LHH Cyber Cafe has 4 level in total, with each level being unique in its own way:
Ground floor, an area where you're not allowed to make any noise
1st floor, an area for casual games, mmorpg, video streaming
2nd floor, an area for competitive gaming, you're allowed to make some noise, moderately
3rd floor, an area for serious gaming, has 2 special zone for 6 vs 6 team match
Here's the best part – if you plan to spend long hours of gaming or internet surfing, each and every PC here at LHH Cyber Cafe comes with an extremely convenient app that allows you to communicate directly with the staffs working at the ground floor for special requests. You can order food and beverages through the app, request to change your PC, reporting issues directly to the staff in-charge and more.
And the rules and regulations, security features implemented here is really good initiative taken by the owner of the internet cafe that is worth highlighting. The entire premise is equipped with security camera that is directly liked to the local authorities office for crime monitoring purposes.
To prevent teenagers/ students from skipping classes, there are rules stated that teenagers at the age between 15 to 18 are only allowed to enter the premise after 4.00 pm and teenagers under the age of 14 will require parent guidance if they wanted to enter the premise.